The
efficientC
Difference
A denial prevention
claim scrubber,
clearinghouse, and
predictive analytics solution.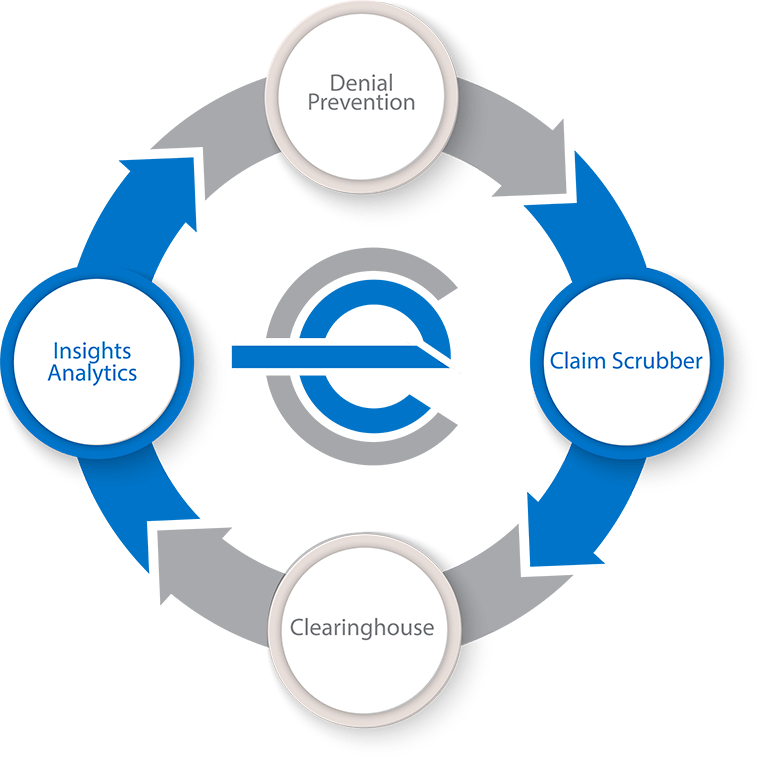 Built by
revenue
cycle experts.
Designed specifically for healthcare billing specialists.
efficientC is the comprehensive clearinghouse product you've been searching for.
Proudly awarded the "Peer Reviewed by HFMA®" designation in 2021. Learn more about this accomplishment here.



All-In-One Software
A full software suite designed by healthcare billing experts for revenue cycle users: clearinghouse, claim scrubber, payer and edit management, work queues, and more.


Expert Customer Service
With hundreds of years of overall experience, our revenue cycle guides are with you all along the way practicing uncompromising customer support.


Business Intelligence
Actionable, easy-to-use dashboards that improve your ability to make informed decisions quickly. Powerfully equipped to help you prevent denials.
A Comprehensive Revenue
Cycle Management Tool

Predictive Analytics
Average Payment Turnaround Time = 17 Days

Data is power and efficientC puts the power of your data to work. Our Insights analytics platform provides a state-of-the-art, straightforward look at the health of your revenue cycle. It also provides the tools to identify exactly where your revenue cycle might need an adjustment.
"The dashboards are very interactive, making it easy to drill down to get to the information you need from a denials standpoint. Whether it's denials, edits, or overall performance, efficientC's tools have helped spot trends and make decisions that keep us moving forward. They developed a great system at efficientC." -ProHealth Care

Claim Scrubber
Average 15% Improvement in Cash Collections After Implementation
efficientC's claim scrubber is built around the philosophy of denial prevention. We believe the true effectiveness of a clearinghouse is determined by what it stops – not what goes through.
"In a 6-month period, dollar amounts from denials plummeted from $1 million to $614,000. It's been great working with everybody on the OS staff. They are always looking one step ahead when it comes to system enhancements and eliminating denials. The technology is great!" -Sauk Prairie Healthcare
Clearinghouse
95% of Claims - Paid in 20 Days
Our optional clearinghouse is direct with over 90% of insurance providers, which means quicker payments and fewer opportunities for delays. During implementation our client experience team manages the payer enrollment process so our clients don't have to – easy.
"On day one we sent out our claims, and on day two we already had the Medicaid remittance attached to the claim. That's not something we can put a price on but it's amazing." -Hayward Area Memorial Hospital
See The Power of Our Products
efficientC is a comprehensive decision support and claims management technology platform.
efficientC combines powerful denial analytics, claim scrubber and clearinghouse technologies to deliver the finest denial prevention tool available. efficientC's denial analytics, Insights, is a predictive analytics solution that leverages machine learning to provide actionable intelligence to help keep denials at bay. Built on the backbone of its powerful claim scrubber, and optional clearinghouse, the efficientC platform, delivers the best possible results to hospital revenue cycles across the United States.
Read Our Blog
Stay up-to-date on the latest news and developments
at OS inc. and efficientC.