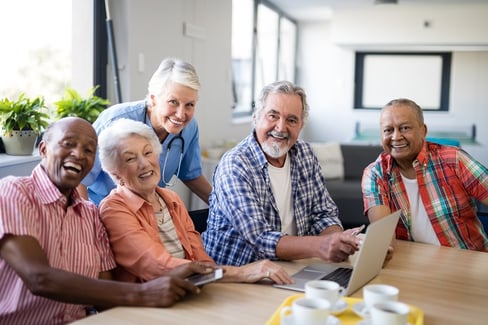 Is your healthcare organization ready for the new CMS cards arriving in April 2018?
Centers for Medicare and Medicaid Services (CMS) has recently revealed the newly designed Medicare card. Taking steps to protect the identity of Medicare beneficiaries the new cards will display a randomly-assigned number (a combination of numbers and upper case letters) which replaces the current social security-based number on the card.
MBI Initiative
Seema Verma, CMS Administrator stated, "The goal of the initiative to remove Social Security numbers from Medicare cards is to help prevent fraud, combat identify theft, and safeguard taxpayer dollars." Medical identify theft affects millions of seniors each year. To combat this growing issue CMS has implemented the MBI initiative to protect more than 57.7 million Americans.
Getting Ready
New cards will be mailed to Medicare beneficiaries between April 2018 and April 2019. Educating your front and back end staff on the change from HICN to MBI will reduce frustration and positively impact patient satisfaction. Be proactive and remind patients to bring their new CMS card to their appointment/services during scheduling. Adding messaging to your website and waiting rooms can increase visibility to the change.
In June 2018, healthcare providers will be able to look up MBI numbers of their patients.
Transition Period
Secure look-up tools will be available to healthcare providers and beneficiaries to allow quick access to the new Medicare Beneficiary Identifier (MBI) starting April 1, 2018. During the 21-month transition period either SSN-based Medicare number or the unique MIB can be used to ease the transition. CMS will actively monitor the transition period to ensure Medicare operations are not interrupted.
The transition period ends on January 1, 2020. Following the transition period healthcare providers will only be able to use MBIs on claims with few exceptions.
Submitting Claims
If you use a vendor to bill Medicare claims, make sure they are able to process the new MBI numbers and have edits in place to successfully navigate through the transition period.
Beginning in October 2018, when you submit a claim using your patient's valid and active HICN, CMS will return both HICN and MBI on the remittance advice.
Helpful CMS Resources:
Resource: Centers for Medicare and Medicaid Services. (2017). Retrieved from: https://www.cms.gov/medicare/new-medicare-card/nmc-home.html