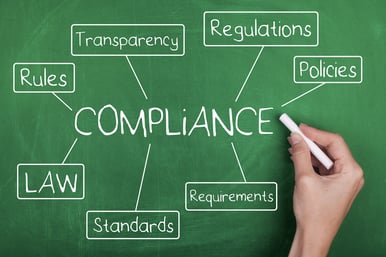 You may have heard the saying, "compliance is expensive but noncompliance is more expensive." In 2016, HHS received roughly $15 million in settlement payments from healthcare organizations who violated HIPAA regulations.
What can healthcare organizations do to avoid hefty HHS fines in 2017? Cultivate a culture of compliance. It's good for your bottom line.
Creating a culture of compliance within your healthcare organization is the first step to managing risk. Effective cultures will influence employees to do what is right, even when no one is watching. Cultivating a culture of compliance will lead to positive outcomes, including avoidance of noncompliance fines, higher employee engagement, and a competitive advantage.
1. Cost of Noncompliance
One of the largest healthcare data breaches last year affected 3.7 million people, landing on the "wall of shame" kept by the HHS's Office of Civil Rights (OCR). Violating the Health and Information Portability and Accountability Act (HIPAA) can have costly consequences. Healthcare organizations who are found in violation are subject to multi-million dollar settlements and lose credibility in the eyes of the community. The largest HIPAA settlement in 2016 was for a record-breaking $5.5 million.
Settlement payments to the OCR will hit your financial bottom line hard. To prevent this, compliance needs to be woven into the organization's culture, including leadership, values, and systems. Addressing compliance once a year during training simply isn't enough, you may have already been exposed to a breach. Compliance should be on-going, the foundation and expectations for individual behavior across an organization.
2. Higher Employee Engagement
There's a strong correlation between compliance and employee engagement in the healthcare industry. According to Gallup, higher workplace engagement has other positive side effects, including lower absenteeism (37%), fewer patient safety incidents (41%) and fewer quality defects (41%). Healthcare employees who experience a culture of integrity, ethics, and compliance are more engaged than ones who do not.
Healthcare organizations with high employee engagement are more productive, see higher patient satisfaction rates, and increased employee retention resulting in positive ROI. The relationship between engagement and compliance is clear, employees want a culture of integrity and ethics.
3. Competitive Advantage
Healthcare providers who make compliance a strong part of the organization's culture have a competitive advantage. By investing in technology, enforcing standards, providing on-going education and a culture of integrity you'll have a competitive advantage over industry peers. Using this competitive advantage to hire the best and brightest talent will positively impact your healthcare organization's bottom line for years to come.
Ethical companies are more profitable, regardless of the industry. Innovative healthcare leaders understand increasing spending for ethics and compliance will not reduce profit, alternatively it will increase profits. Consumers respond to ethical companies – high deductible plans force patients to shop around; hospitals with higher employee engagement produce quality care, attracting patients and talent. All of these factors contribute to an increase in your healthcare organization's bottom line.
Is it time your healthcare organization focused on compliance? It makes financial sense.