Revenue Cycle Management is a vast operation for every healthcare organization starting prior to patient intake and continuing on through to financial reporting. Each stage of the healthcare revenue cycle has its own terminology that, for mere mortals (all of us), can increase the complexity of our day-to-day and make the job harder!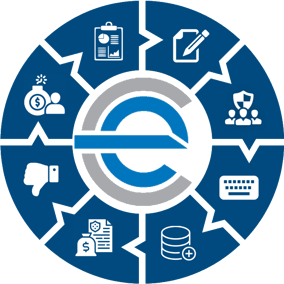 So, in this edition of Revenue Cycle Matters, we thought we'd take on "Revenue Cycle Terminology". Hold on! Hold on! Before your eyes roll and you slip off to sleep, give us some credit that in true efficientC fashion, we know how to make this fun! After all, from beginners to seasoned veterans staying current on the ever-changing language of our industry is critical to our success, so let's see who's "got it" and who needs to "get it" by playing some...
Click the Jeopardy board image below to start the game

Choose a value in the column of your choice to see the description of an RCM term.

Don't Forget: express your answer in the form of a question!

To check your answer, tap the "Spacebar" or the button in the upper-right of the game board

If you got it right

,

click the "+" scoring button to claim the points for that round
If you got it

wrong

, click the "-" button to lose the points for that round

Hit "Esc" (or the button in the upper left of the game board to return to the main Jeopardy! screen.

Keep going until you've cleared the board.

Are you a true RCM savant?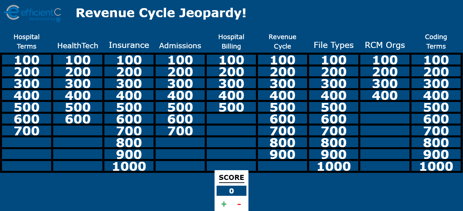 Not into games?

Here's a great resource that you can download called the: "RCM Terminology Cheat Sheet".
Feel free to share it with your staff!
If you rocked the Revenue Cycle Jeopardy! board, post your score in the comments for bragging rights!