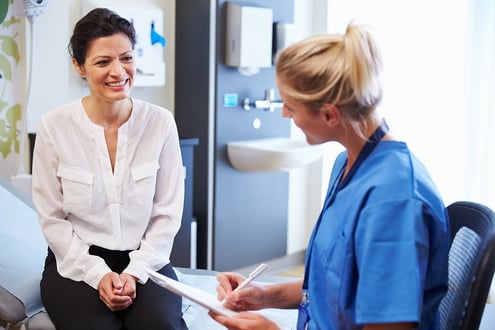 In today's healthcare environment, patient financial responsibility has increased dramatically — their higher level of investment in their own care has transformed hospital patients into knowledgeable consumers, and hospital care to more a commodity. Due to this increase in cost patients now expect a high-quality experience. Making their satisfaction with a trip to their provider much more important.
Traditionally, patient experience has been perceived as something only the facilities, providers and clinical staff can impact. However, since a patient's first contact is with registration and their last follow up comes from billing, it's vital that an organization's revenue cycle is also on board with providing a satisfactory patient experience. The patient experience begins and ends with different functions of the revenue cycle, and it's an opportunity for healthcare organizations to engage, educate, and foster goodwill with their patients.
A Positive Experience Is Crucial to Your Bottom Line
By tying a percentage of reimbursement to patient experience and satisfaction, value-based reimbursement programs have a profound impact your on cash flow and financial risk.
If a patient receives life-saving treatment but has a horrible experience trying to resolve their bill, your reimbursement is at jeopardy. Operational, and financial aspects of a patient encounter are just as important as the clinical aspects — as all functions become integrated into payment, it's important for the revenue cycle to be aware of their role in the overall patient experience.
Healthcare Organizations Need an Engagement Strategy
In an era of high deductible plans, patients have become very familiar with copays and remaining balances after insurance pays their portion for healthcare services. Healthcare organizations who focus on providing a positive patient experience understand the interconnectedness of care and revenue. Engaging patients on their potential financial responsibilities before, during, and after their encounter will increase the likelihood of payment and a positive patient experience. An engagement strategy of early and often sets up both the patient and healthcare organization for success. Collecting payment before treatment at a discounted rate or offering payment plans is a revenue cycle best practice. Once the patient is discharged your chance of receiving payment goes down significantly.
The overall health of your revenue cycle is a combination of payer reimbursements, patient self-pay, and reducing denials. Your approach to patient experience can have an immediate impact your revenue cycle — satisfied patients are more likely to pay, refer others, and remain loyal, contributing to the long-term health and success of your organization. U.S. hospitals who provide superior patient experiences generate 50 percent higher financial performance than average providers.

With proactive organizations already participating in quality programs, we know the patient experience trend is here to stay. As providers learn to navigate value-based reimbursements (financial penalties and rewards) and consumers search for the best value for their buck, we will continue to see organization's embracing ways to satisfy their patients.