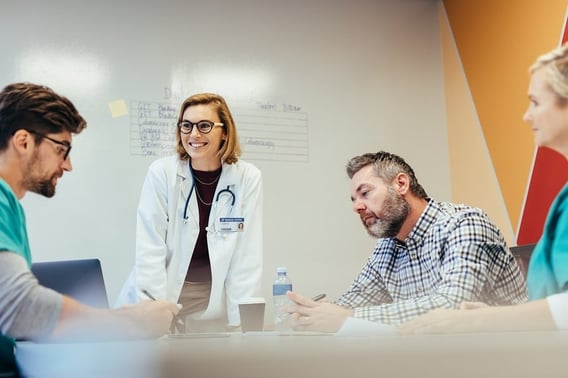 If your hospital is like most, your business office staff see the words "claim denied" on a regular basis.
Industry estimates say on average, one in five claims are denied or delayed. As a result, billing work increases, frustration grows, and your healthcare organization's revenue reduces over time.
Medical billing is complex. Payers sure don't make it easy to get paid. Don't let this get in the way of eliminating denials and improving reimbursement rates. We've put together tips for your business office to manage denied claim more effectively.
1. Denials ARE preventable
In our experience, 90% of denials are preventable despite what many healthcare providers might think. By focusing on just one of your most common preventable denials has the potential to have a huge financial impact while also eliminating the staff time dedicated to rebilling those rejected claims. We believe in getting to the root cause of a denial and making necessary adjustments to prevent those same denials from happening in the future.
Common types of preventable denials:
Duplicate claims

Incorrect or missing information

No authorization
Eligibility
A vast majority (63 percent) of denied claims are recoverable on average, but providers spend roughly $118 per claim on appeals, or as much as $8.6 billion in administrative costs nationwide. These are costs that can easily be avoided. For example, if you are seeing a high level of eligibility related denials maybe it's time you evaluate your registration processes. Make front end training a priority so that all necessary information is collected. Time spent improving registration practices will be quickly repaid in the form of time saved and headaches avoided by your business office not needing to rework rejections.


2. Automate as much as possible
It's exhausting to keep up with constantly changing diagnostic codes and insurance reimbursement policies. Healthcare providers can benefit from automating their billing cycle by reducing denials, increasing productivity, and improving your hospitals cash flow.
Another benefit we've seen from improvements in revenue cycle technology is most tools can automate parts of the billing process that many hospitals still do manually. If a claim has been scrubbed and successfully passes your system's edits, set it to automatically submit to the payer so your staff isn't touching every claim and can focus on fixing the ones that are more likely to be denied. Other common areas that can be automated are secondary billing and parts of the appeals process. Advances in revenue cycle technology have given us a great opportunity to start working smarter not harder.
3. Identify breakdowns
Minor details are the cause of most denials, it can be as simple as missing information or using an incorrect modifier. Many healthcare providers believe denied claims are on the back end but 60 percent of all denials are related to technical errors from patient access. We believe if take the time up front, you will reduce the frustration and revenue loss on the back end. Focus on completing forms accurately and checking your work, even if it means taking a little extra time.
Track claim level and line item denials over time and investigate the cause of denials, determining the root cause is key in preventing future denials. Your business office can't escape the initial financial hit of a denied claim but with proper appeals follow up you can reduce the long-term impact.
4. Create processes and collaborate
Preventing denials shouldn't be one department's responsibility. Raise awareness throughout your revenue cycle. Make working denials daily a standard practice in your business office. A claim may deny initially but doesn't mean it's a loss cause, unless it denied for untimely.
Denials should be categorized and reported across all departments (patient access, HIM, clinical, etc.) to drive change within your revenue cycle. Empowered with denial data, departments can collaborate and find ways to efficiently reduce denials.