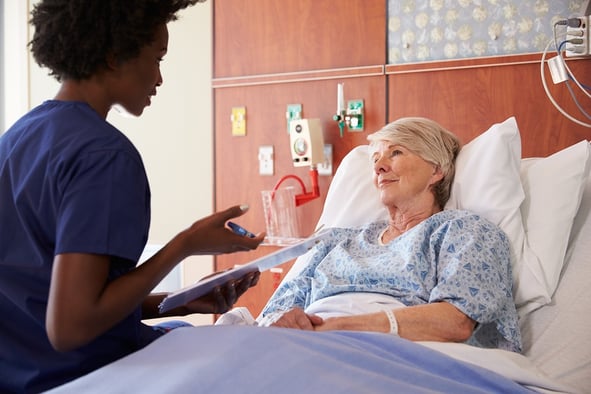 High deductible plans and increasing copays and coinsurance are driving patient balances up. This trend is unlikely to change.
Almost 40% of employer-sponsored healthcare insurance plans require annual deductibles of $1000 per year, and that number keeps rising as employers scramble to reduce their costs while still offering insurance to their employees.
Patients who purchase their healthcare insurance through the marketplace are looking at even higher deductibles. Most insurance plans cap out-of-pocket medical expenses, but that annual limit growing. ACA exchanges capped family out-of-pocket at $14,300 in 2017, and private plans are increasing their patient out-of-pockets, too.
The shift of increased financial responsibility to consumers is directly affecting the financial health of providers. With 56% of patients delaying payment of medical bills, hospitals and other healthcare providers must explore strategies to recover the patient share of outstanding receivables.
Use these proven strategies to improve patient collections:

Clear Financial Policy
With patients becoming one of the top payers in a hospital's payer mix, it's critical to set clear financial expectations from the beginning. If a patient receives a bill that they were not expecting or do not understand, it can color their entire experience with a provider. An effective financial policy offers clarity over confusion and treats all accounts equally. It describes the business process that occurs from the patient's first encounter to the last, and it lays out how patient accounts are handled with and without insurance. Clearly communicating how and when your healthcare organization will collect patient balances and the options available for paying balances leaves no room for misunderstandings regarding billing procedures.
Checking Patient Eligibility
Solid billing and collection processes start before scheduled patients present for services. Intake procedures should include requesting insurance type and identification, as well as typical patient registration. Advise the patient of payment expectations at time of service. Insurance verification is made, with staff confirming eligibility, benefits, and patient out-of-pocket. When the patient presents for the appointment, advise of insurance verification results and what their estimated out-of-pocket is, as well as your expectation of patient payment. Insurance verification should occur 24-48 hours before the patient appointment to insure up-to-date benefits.
Obtain Patient E-mail Address
Make it a policy to request patient email addresses during the registration process. Most patients today don't think twice about providing this information. Providers promote communication with patients by reminding them of appointments, allowing them access to test results, and promoting online payment and e-statements.
Offer Multiple Payment Options
Flexibility and communication promotes patient satisfaction. Consider patient convenience and offer various forms of payment. If patients can't afford to pay their balance in full, offer a credit card on file option for their monthly payment. Allow them to choose the day of the month and the amount charged until their balance is resolved. Online and mobile payments are fast, easy, and secure and offer great convenience for patients. These options reduce patient account receivable and improve patient perception of your billing process.
Target Outpatient Collections
As insurance companies require more patient liability for medical services, hospitals must likewise shift their focus on patient collections. Point of service (POS) includes all services, but pinpointing patient liability for traditional outpatient services is crucial to keep up with the increase in patient financial obligation. Bad debt stemming from these services surpasses debt from inpatient services, but collection efforts fail in the outpatient setting. Requiring a patient upfront payment as little as $20 at the time of service can reduce bad debt to less than 4% of net patient revenue. Targeting outpatient POS in imaging and the emergency room offers the greatest return on investment for outpatient collection activities.
Maintain Payer Compliance
Most insurances follow CMS guidelines, but many commercial plans, including Medicare and Medicaid HMO's have specific precertification and provider participation requirements. Know your payer guidelines and update your practice management system, clearinghouse partners, and internal processes to comply with commercial insurance mandates. And factor those requirements into your collection polices. Commercial and government payers often have strict policies on patient liability and collection but reviewing your insurance contracts allows you to set collection policies on when and how to collect. Except for Medicaid plains, there are generally no restrictions on when you can collect patient liability. Use this knowledge to educate your staff and your patients on pre- and post-collection activities.
Fine-Tune Billing Policies
Clear and consistent collection policies must include accurate billing procedures. Coding compliance and medical necessity documentation determine insurance payment. Knowing how you can and can't bill and following up on all denials ensures insurance has paid correctly. No one likes to get a bill for services that aren't owed by them, and it's inherently unfair to bill patients untimely to the services they received. Copy patients with insurance appeal letters and call for their assistance with specific insurance payment problems to keep them in the loop regarding insurance processing.
Shorten Statement Cycles
Set your patient statements to release as soon as there is a patient balance. Waiting to generate a monthly statement only lengthens your patient A/R and it decreases your opportunity for payment.
Collect Patient Deposits
Train your staff to request patient liability as soon as it's known. If you're scheduling a high-dollar procedure, request a deposit from the patient. Offer a payment plan if the patient has a high deductible or out-of-pocket. Being straight-forward and clear about patient liability at the beginning of their billing experience allows them to plan their budget and shields them the surprise of a large and sudden balance.
As patients assume greater financial responsibility for their healthcare, the onus on providers to educate and inform them of their rights and responsibilities in the billing cycle becomes paramount. In today's competitive healthcare market, patients are becoming savvy healthcare consumers. Clarifying your organization's policy allows your patient to make smart and rewarding choices regarding their health.