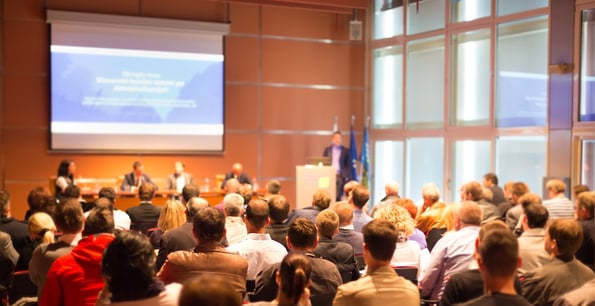 After the excitement of the new year wears off, we quickly fall into a routine and when we are busy with day-to-day responsibilities, it is easy to push self-development to the bottom of our list of priorities.
One way to break out of the monotony and get inspired is to set your out of the office reply and attend a revenue cycle conference or seminar. Many events offer agendas with a good mix of presentations centered on industry-leading best practices, team & leadership development and speakers sharing perspectives on the future of healthcare.
Spring is always the busy season for conferences and here's a list of upcoming revenue cycle events the efficientC team is heading to in the coming weeks.
Check out our speaking engagements and exhibiting events below.
Will you be attending these too? Let us know!
Annual Rural Health Conference & Rural Health Innovation Summit

May 7-10 | Atlanta, Georgia
NRHA's Annual Rural Health Conference & Rural Health Innovation Summit is the nation's largest rural health conference.
This content-rich event is filled with inspiration, cutting-edge strategy and intensive, expert-led workshops. Give your hospital's leadership team the edge with insight from the industry's leading experts, topics that impact and improve your hospital's profitability and efficiency, and top-notch networking opportunities.
efficientC is excited to attend as an exhibiting sponsor at table #201.
---
WI AAHAM Spring Conference

May 14-16 | Wisconsin Dells, Wisconsin
Sue York of efficientC & OS inc. presents How HIM & PFS Can Collaborate to Improve Revenue Cycle Efficiency while other members of the team enjoy the education sessions and tend to efficientC's exhibit, as one of the Chapter's Gold Partners.
Make sure you stop by and check out our raffle and leave questions for the presenter.
For more event information, check out AAHAM Wisconsin's April Newsletter.
Conference Agenda - Page 6

Featured Speaker - Page 13
---
WI HFMA Spring Conference

May 15-17 | Appleton, Wisconsin
The HFMA WI Spring Conference is a great event for celebrating the end of Wisconsin winter weather with golf and Timber Rattlers baseball. In addition to the great networking opportunities, this year's conference offers a variety of educational sessions - topics including Technology Disrupters, the Future of Accountable Care and Point of Service Collections strategies.

---

Hawkeye AAHAM Spring Conference
May 15-17 | Johnston, Iowa
Lori Zindl, President of efficientC and OS inc. will be networking and sharing strategies on preventing denials with the Hawkeye AAHAM Chapter on May 16th in Johnston, IA.
See more event details and register here.
---

West Virginia HFMA Spring Meeting

May 16-17 | Roanoke, West Virginia
The efficientC team and Sue York are heading to Roanoke, WV for her presentation, What's Eating your Bottom Line.
If you aren't registered but are interested in strategies for preventing denials, improving first pass denial rate and time saving denial reports that actually drive revenue cycle performance then you should definitely consider signing up soon.
For more information, check out WV HFMA's event page.

---