- Case Study -
ProHealth Care
Denial Analytics Drives Top Revenue Cycle Performance
Located in Southeastern, WI

Two hospitals, seven urgent care centers, 14 clinics
Denials are the biggest reason for revenue cycle underperformance. With payers constantly changing their requirements, and in some cases automating denials, providers often feel overwhelmed trying to keep up. Without meaningful analytics, providers struggle to identify the root cause of their denials and are unable to take corrective action, even on those that could easily be prevented. The result is high A/R days, too many write-offs, and sluggish cash flow.
Thanks in large part to efficientC, Waukesha-based ProHealth Care does not have these problems. efficientC's denial analytics platform, Insights, combined with its powerful claim scrubber and optional clearinghouse technologies, provide a robust denial prevention solution that enables revenue cycle leaders at ProHealth to quickly address the root cause of denials and improve financial performance.
"When you have access to information, like the denial dashboards we see every day from efficientC's Insights, we can get on top of things right away," said Curt Glaunert, Vice President of Revenue Cycle at ProHealth Care. "If you have the relevant data coming through from a good system, you can use that to identify and address issues. Not at the end of the month, not at the end of the week, but on a daily basis."
Upgraded Platform Delivers Actionable Insights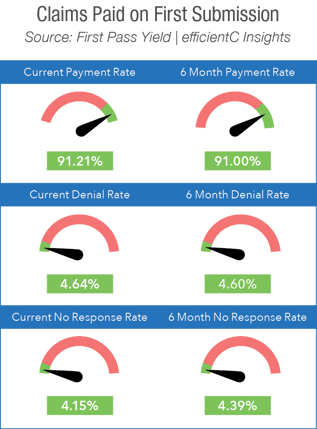 ProHealth was one of the first hospital systems to use efficientC, starting with Medicare billing at its Oconomowoc Memorial Hospital location. When ProHealth underwent a challenging EHR conversion in 2011, efficientC helped get the organization's claims and cash normalized within 45 days.
Fast forward to present day, and efficientC handles claims for all ProHealth payers, and continues to evolve to meet the needs of clients like ProHealth. One of efficientC's most notable enhancements has been the introduction of Insights, its denial prevention analytics platform, which provides organizations actionable data on their denials.
"The dashboards are very interactive, making it easy to drill down to get to the information you need from a denials standpoint. Whether it's denials, edits, or overall performance, efficientC's tools have helped us spot trends and make decisions that keep us moving forward," Glaunert said. "They developed a truly powerful analytics platform at efficientC."
When used correctly, efficientC's full-service offering—Insights analytics, claim scrubber and clearinghouse—allows organizations to develop feedback loops that increase revenue cycle efficiency. In ProHealth's case, efficientC's denial reports show leaders if they need to make adjustments upstream in the revenue cycle. If the system indicates high initial denials for eligibility, it could mean that patient access team members are not gathering the right information at time of registration. In this way, efficientC helps to open lines of communication between the revenue cycle and other departments to promote greater understanding and additional denial education.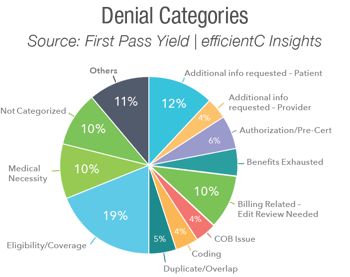 "With the information available to us, we can go to the front end and use it to help identify and correct problems," Glaunert said. "We work with our front-end teams and others who don't necessarily report to the revenue cycle, and we have the facts behind us through solid analytics to adapt to issues quickly."
With Analytics Included, Providers Save
Costly, standalone analytics platforms claim to give users actionable insights and intuitive dashboards. ProHealth had previously used an analytics tool that cost almost $500,000 a year. It had many of the same capabilities as Insights, but it had integration issues due to how data was able to be extracted. Since efficientC is also ProHealth's claim scrubber and clearinghouse, there are no gaps in the data, which comes directly from efficientC and the EHR. At far less than $500,000 annually, efficientC provides the right mix of tools to help revenue cycle teams manage their denials more effectively.
"We reduced our cost significantly, hundreds of thousands of dollars, just by eliminating that platform and relying mostly on the tools available to us in efficientC," Glaunert said.
Proven Results: Clean Claims Up, Denials and Write-Offs Down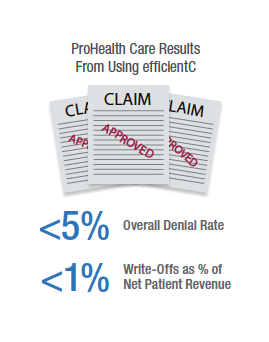 Thanks to efficientC's analytics and the resulting process improvements, ProHealth has seen impressive results. Industry statistics show an average of 20-25% of claims reject on first submission. ProHealth routinely achieves 90% to 95% of claims paid on first submission. Their high first past yield rate helps the organization consistently keep its A/R days in the 30's.
ProHealth's denial metrics are similarly remarkable. Its overall denial rate is less than 5%. With that low rate, its write-offs as a percentage of net revenue are less than 1%. This level of success would not be possible without efficientC's Insights analytics.
"A lot of our success at ProHealth Care is due to the fact that we're linked up with efficientC," Glaunert said.
"I worked in revenue cycle consulting for 20 years before I came to ProHealth Care. I've worked with a lot of different systems and efficientC is one of the top systems I've ever worked with in regards to having the data and tools at your fingertips that can be used it to solve root cause issues."
About efficientC
efficientC is a comprehensive decision support and claims management technology platform. It combines powerful denial analytics, claim scrubber and clearinghouse technologies to deliver the finest denial prevention tool available. efficientC's denial analytics, Insights, is a predictive analytics solution that leverages machine learning to provide actionable intelligence to help keep denials at bay. Built on the backbone of its powerful claim scrubber, and optional clearinghouse, the efficientC platform, delivers the best possible results to hospital revenue cycles across the United States.
See The Power of Our Products
efficientC and Insights have joined forces to deliver the industry's ultimate denial prevention product available today.
Built by revenue cycle experts for healthcare billing specialists, efficientC is a claim management and analytics software product. It combines a responsive clearinghouse and claim scrubber tool with its Insights analytics platform that work together to get you the highest number of claims paid on the very first submission.