Welcome to the third installment of our Expect More From Your Claim Scrubber series. If you missed Part 1 and Part 2, make sure you check them out!
We've been sharing all the details on how efficientC differentiates itself from other clearinghouses & claim scrubbers on the market.
Today, we're shifting the focus to denial analytics and how one Wisconsin-based health system has been able to achieve a first pass yield of 90-95% with the help of efficientC.
We all know that healthcare is dependent on data—gathering data, moving data, sharing data, interpreting data, and most importantly - making sense of data. All too often, however, healthcare organizations are missing the mark when it comes to truly harnessing data and turning it into actionable business intelligence.
At efficientC, we've done the hard work for you by building a claim scrubber with a built-in analytics platform that has the power to identify, track, and eliminate denials.
Shifting from denial management to denial prevention at ProHealth Care
ProHealth Care, a multi-facility health system based in Southeastern Wisconsin, uses efficientC to handle claims for all its payers. With the addition of Insights, our state-of-the-art analytics platform, ProHealth leaders have extensive denial data at their fingertips.
At a glance, they can view not only individual denials, but also denial categories (i.e., eligibility, medical necessity, coding, etc.) as a percent of total denials.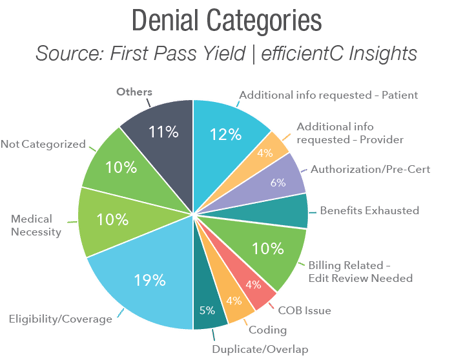 In a white paper produced by Healthcare Business Insights, Curt Glaunert, Vice President of Revenue Cycle at ProHealth, explains the impact.
"The dashboards are very interactive, making it easy to drill down to get to the information you need from a denials standpoint. Whether it's denials, edits, or overall performance, efficientC's tools have helped spot trends and make decisions that keep us moving forward. They developed a great reporting system at efficientC."
These denial reports allow ProHealth's staff to quickly identify the root cause of denials and make needed upstream adjustments. Rather than reacting to denials as they come in, ProHealth is now in a position to prevent denials from the get-go.
Glaunert elaborates further stating, "With this data, you can go to the front end and use that to help correct problems. We work with our front-end teams and others who don't necessarily report to revenue cycle, and we have the facts behind us through solid analytics to correct things quickly."
---
Follow along by having our latest insights, news and tips sent straight to your inbox!
---
­­­­­­­­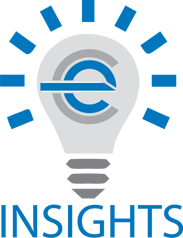 Insights analytics platform leads to measurable results
Before Insights went live on efficientC, ProHealth was using a costly, standalone analytics platform that did not integrate seamlessly with its other systems.
Insights, on the other hand, is included with efficientC - ProHealth's existing claim scrubber.
Glaunert says, "We reduced our cost significantly, hundreds of thousands of dollars, just by eliminating [the former analytics] platform and relying mostly on the tools available to us in efficientC."
In addition to these significant cost savings, ProHealth has some equally impressive denial metrics.
For example, the organization's average denial rate is below 5%, while write-offs as a percent of net patient revenue are below 1%.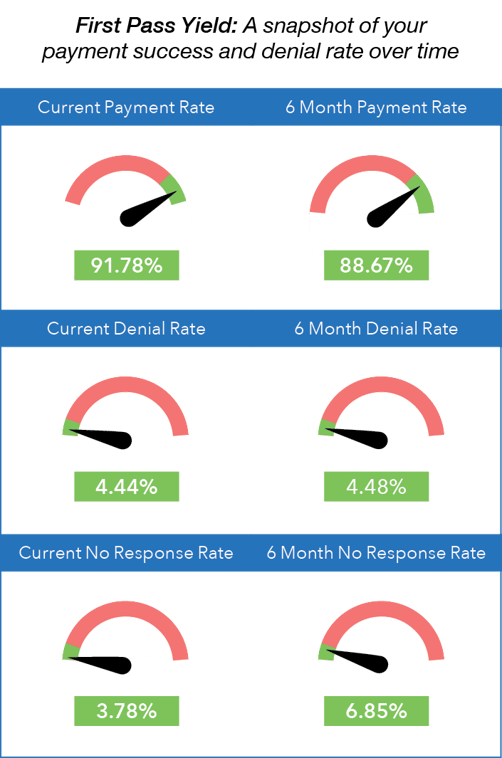 Image: Insights - First Pass Yield Dashboard
Update on Insights
Since going live with Insights in September of 2019, the efficientC team has rolled out a new dashboard every month including our Payer Scorecard, which provides payment turnaround time-frames, denial data, and reimbursement trends on hospital-specific payer groups and insurance plans.
efficientC's goal is to release a new dashboard every month in the near term to continue to provide customers with the actionable intelligence they need to get as many claims paid on the first submission as possible.
Are you ready to expect more?
If you're ready to expect more from your claim scrubber, consider getting in touch with one of our claim experts to schedule a demo of efficientC.
They will be happy to familiarize you with our process and show you how our focus on denial prevention and first pass yield can transform your organization's A/R performance.
Not ready for a demonstration yet?
No problem, but make sure you subscribe to Revenue Cycle Matters for healthcare billing best practices and industry tips!