5 min read
Experience a Pain-Free Clearinghouse Conversion with efficientC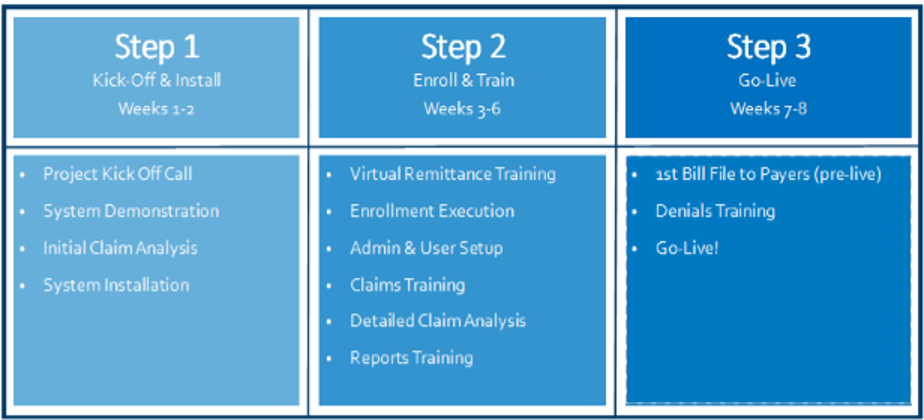 Welcome to the fourth installment of our Expect More From Your Claim Scrubber series! If you missed the last post on how efficientC differentiates itself with powerful analytics, you can find it here.
The words "system conversion" and "implementation" are enough to send chills down the spine of even the most resolute revenue cycle leader.
All too often, healthcare staff are left reeling after a whirlwind conversion that required significant effort and created more problems than it solved.
To top it off, they receive little to no support following the implementation. This can lead to frustration and failure to harness the full potential of the new technology.
At efficientC, we value the relationship we have with each and every client. When your organization chooses to partner with our team, it receives so much more than a claim scrubber and state-of-the-art analytics platform. Our people come alongside yours from the start and quickly become an invaluable extension of your team.
The first step?
A smooth, pain-free implementation that sets you up for success and leaves you feeling confident with your new workflows.
Kicking Off Your efficientC Implementation!
From the start, clear and consistent communication is at the heart of every efficientC implementation. Each engagement begins with a Kick-Off Call to provide a general overview of the implementation process and introduce the project phases, as well as a projected timeline.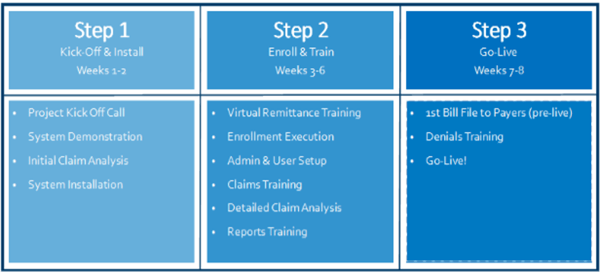 Overseeing every implementation is a dedicated efficientC project team, which consists of a Project Manager, a Technical Lead, an Enrollment Lead, and an Executive Sponsor. During the Kick-Off Call, we share the contact information of these individuals, identify project team members from your organization, and establish a weekly meeting time.
The entire implementation typically takes 6 to 8 weeks. The efficientC project team does as much of the heavy lifting as possible to minimize customer effort during the process.
Additionally, because efficientC is a web-based software as a service application, implementation requires minimal IT resources. Our team is able to guide yours through the entire process remotely with very little disruption to existing day-to-day workflows.
---
Follow along by having our latest insights, news and tips sent straight to your inbox!
---
­­­­­­­­
Staff Training and Claims Testing
Staff training is accomplished primarily using a series of online videos in the efficientC Help Center.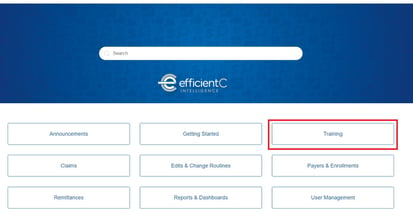 Each video is between 4 to 8 minutes in length and will remain available to your staff during and after implementation.
Within the first few weeks of implementation, a month's worth of your organization's claims will be loaded into our test system. This will allow your team and our team to review them together and add any necessary edits before Go Live.
Our Payer Analyst will even handle the payer enrollment process for you, ensuring this complex step is handled compliantly and efficiently.
Finally, on a specified day prior to Go Live, we will support your staff as they work live claims in efficientC. This provides a real hands-on experience, as well as an opportunity to create additional edits and adjust processes.
Our Support Continues Beyond Go Live
Once live, the project team will continue with weekly meetings for the first 4-6 weeks transitioning to monthly meetings thereafter. Our team will come on-site (if possible) after 4-6 weeks to help your team refine how they are utilizing efficientC, share tips, tricks and best practices. All along the way, our team is there to support your team answering questions and issues as they come up. Our goal is to become an extension of your team – we never leave you.
When the customer is ready, the efficientC team will transition to a quarterly review schedule. Providing ongoing support as needed through our "uncompromising customer support" structure that includes unlimited edits, payer enrollments and most importantly access to our Insights analytics that will keep you informed on the health of the system and help you identify where improvements can be made.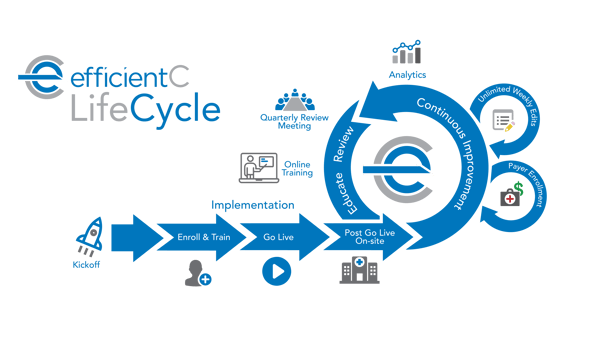 What sets efficientC apart from the Competition?
The personal connection we share with our customers doesn't end after implementation. When you partner with efficientC, you will continue to receive real, personal support from our team long after Go Live.
Our Support Team is always available via phone during regular working hours, and the online Help Center is available 24-7. More than that, however, we pride ourselves on the relationships we build and maintain with each and every client. We make the success of your revenue cycle our top priority.
Here's what a few of our clients have had to say:
"The staff is professional and knowledgeable. It's a true partnership; they treat your revenue cycle as their own and deeply care about your hospital's success.
We're excited for the future."
- Revenue Cycle Manager Massac Memorial Hospital
"My most recent [efficientC] implementation was seamless, and their customer service team continues to provide one of the most positive experiences I've had with a business partner in my career. To any hospital looking for a better approach to revenue cycle management, I can't recommend efficientC enough!"
-Director of Patient Financial Services, Hayward Area Memorial Hospital
We know you are making an investment when you purchase any new revenue cycle technology. On top of that, there is always the risk that implementation won't go smoothly, or that the tech will be difficult to use. Not with efficientC.
We want to make sure your investment is protected. efficientC will be so much more than just another tool in your arsenal. We aim to become a valued partner, which is why we have made it a priority to offer dedicated and "uncompromising customer support" every step of the way.
Are you ready to expect more?
If you're ready to expect more from your claim scrubber, consider getting in touch with one of our claim experts to schedule a demo of efficientC.
They will be happy to familiarize you with our process and show you how our focus on denial prevention and first pass yield can transform your organization's A/R performance.
Not ready for a demonstration yet?
No problem, but make sure you subscribe to Revenue Cycle Matters for healthcare billing best practices and industry tips!