4 min read
Expect More from Your Clearinghouse - The efficientC Difference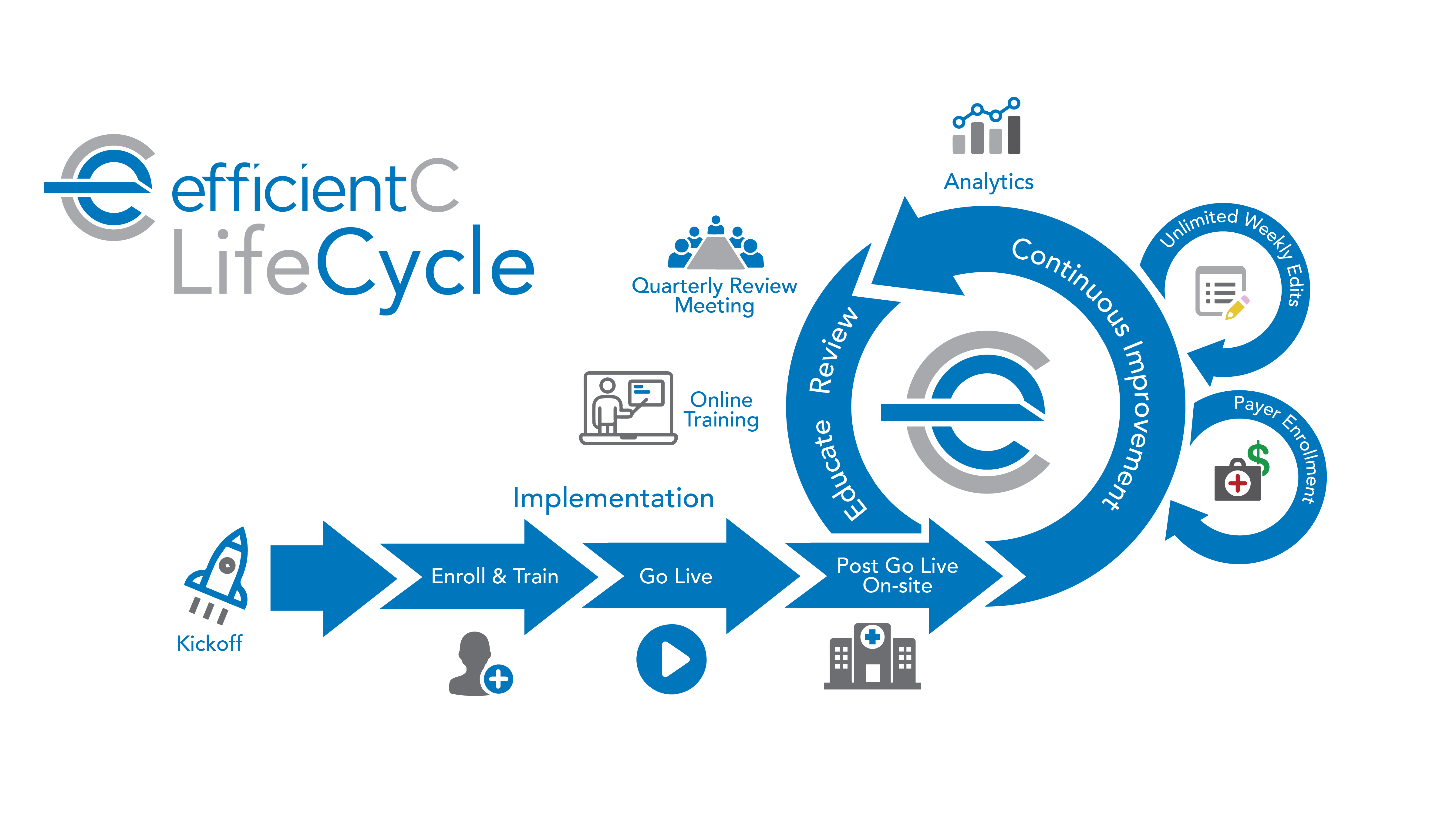 As a healthcare leader in 2020, your bottom line is largely dependent on your ability to get claims paid accurately and on time—contributing to predictable cash flow and less costly re-work by billing staff. So keep the New Year going strong by taking steps to improve that bottom line.
The first step?
Begin by taking a closer look at your clearinghouse, which is arguably the most important technology in the revenue cycle. It is responsible for transmitting claims to payers, but even more importantly, it should have powerful claim scrubber technology. A clearinghouse that submits inaccurate claims, while touting a high clean claim rate, will create more follow-up work and increase operating costs.
Don't take your clearinghouse for granted.
Is your clearinghouse delivering in each of these areas? Ask yourself whether your service provider delivers the following:
Ongoing human support that works closely with your team to optimize results
Powerful claim scrubber, and denial management tools in single clearinghouse platform
Analytics that provide real-time transparency into A/R performance
Constant updates to claim edits based on your denial data & changing payer requirements
A claims management philosophy centered around first pass yield
If you answered "no" to any of these questions, we would love to have a conversation with you. It's time for you to expect more from your claim scrubber.
This article is the first of a five-part series that seeks to define the efficientC difference. We want to walk you through exactly how our product differs from others in the industry. The following points provide a general outline of what we plan to cover in this series.
---
Follow along by signing up to have our latest insights, news and tips sent straight to your inbox!
---
What is efficientC?
efficientC, now in its eleventh year, was created by a team of revenue cycle experts who had experienced the good, the bad, and the ugly while working across multiple industry-leading clearinghouse/claim scrubber platforms.
"We wanted a system that would eliminate denials, provide quicker payments, and shorten the claim cycle. We wanted customizable edits and warnings. Finding the right technology proved next to impossible. So we built it ourselves."
-Lori Zindl, President, efficientC
Differentiating features of efficientC
Unlimited custom edits
Manages payer enrollments for our customers
Insights Analytics included
Submit attachments & appeals
Workers Compensation via EDI
Medicare ASB
Medicare DDE submissions/integrated RTP with Epic
Automated ERA processing
Our philosophy is built around first pass yield
At efficientC, we do things a little differently than most other clearinghouse/claim scrubbers. While many other clearinghouse/claim scrubbers focus on "clean claim rates" as an indicator of performance, we've zeroed in on first pass yield.
So instead of measuring the number of claims that make it to the payer upon first submission, we look at how many of those claims actually get paid the first time.
This philosophy allows us to better address denials. Our Insights Analytics platform (included with efficientC) provides real-time denial data and arms healthcare leaders with the information they need to prevent denials from happening in the first place. By shifting the focus to denial prevention, we work with our customers to improve overall A/R performance.
In fact, efficientC clients see 95% of claims paid in less than 20 days and GDRO in the 30s.
Our people come alongside yours
Every efficientC engagement begins with a positive implementation experience. New clients receive support from a dedicated efficientC project team for the entire 8-week process. From our initial Kick-Off Call to weekly meetings and ad hoc phone calls, we know clear and consistent communication is the key to success. Our implementation team will even make an onsite visit to your facility 30-60 days after Go Live to make certain that your team is getting the most out of efficientC.
Our relationship with our clients doesn't end there! We'll be by your side throughout the entire engagement to ensure the best possible ease of use and performance. Each client receives implementation-level assistance for the life of the engagement.
Ensuring the highest possible first submission payment rate requires an ongoing (and never-ending) improvement cycle powered by our own team of experts.
State-of-the-art business intelligence offers drillable dashboards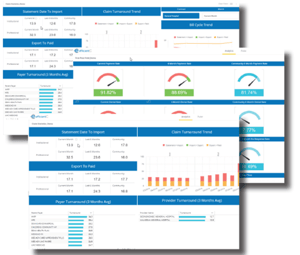 efficientC's Insights Analytics applies state-of-the-art business intelligence to every customer engagement. Insights' dashboards allow each customer to drill all the way down to the claim level—providing insight into the overall health of an organization's claim processing through scorecards for denials, payers, and edits.
Your dedicated Client Experience Team will then work together with your team to address common denials by improving processes upstream or creating new custom edits within your system.
Are you ready to expect more?
If you're ready to expect more from your claim scrubber, consider getting in touch with one of our claim experts to schedule a demo of efficientC.
They will be happy to familiarize you with our process and show you how our focus on denial prevention and first pass yield can transform your organization's A/R performance.
Not ready for a demonstration yet?
No problem, but make
sure you subscribe to
Revenue Cycle Matters
for healthcare billing best practices and industry tips!